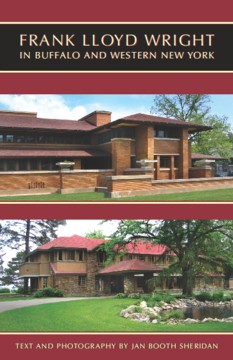 Books: by Title: Frank Lloyd Wright In Buffalo and Western New York
Western New York is home to one of the world's largest and most diverse collections of structures designed by Frank Lloyd Wright, America's most famous architect. Now that awe-inspiring collection of great architecture is catalogued in the new book, Frank Lloyd Wright In Western New York.
Author Jan Sheridan takes a closer look at these prominent sites:
The Darwin D. Martin House Complex, considered to be Wright's most important house design, and an early example of Prairie School design
Graycliff Estate and the Isabelle R. Martin House
The Larkin Administration Building, regarded as the first modern office building
Three private homes
Fontana Boat House
The Blue Sky Mausoleum
In addition, the book boasts more than 50 black-and-white photos of a variety of sites bearing Wright's unique designs, and a variety of reference material for both the casual and scholarly:
User-friendly maps with locator icons for all sites
Photos and addresses for each structure
Brief biography of Wright and stories about the people associated with the buildings
ISBN: 978-1-879201-65-1
$12.95
© 2010 Western New York Wares Inc.