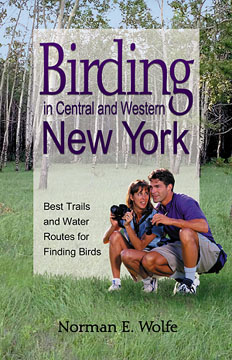 Books: by Title: Birding in Central & Western NY
Best Trails and Water Routes for Finding Birds
This guide shows when, where and how to find and enjoy birds that migrate through Central and Western New York as well as ones that take up year—round residence. There are maps and directions for travel on foot, by canoe or kayak, by bicycle and even a few where you don't have to leave your car. Birdwatching is a year-round activity that can be enjoyed by everyone. Written by Norman E. Wolfe.
Learn:
Why Central & Western NY is a prime birdwatching area
Where and when to go to find specific species of birds
Simple keys to bird identification
History of bird development and how it affects where you're likely to find them today
How to have fun outdoom with minimal environmental impact
Recommendations for selecting binoculars
Tips on photographing, video recording, and sound recording birds for added enjoyment
160 pages, 32 maps, 6 photos, 10 line drawings
ISBN 1-930480-0-08
Price: $16.95
© 2001 Western New York Wares Inc.