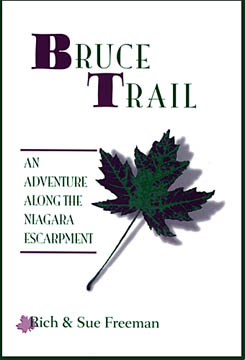 Books: by Title: Bruce Trail
An Adventure Along the Niagara Escarpment
The Bruce Trail stretches 465 miles (800 km) from Niagara Falls to the tip of the Bruce Peninsula on Georgian Bay. It follows a unique limestone cliff called the Niagara Escarpment and wanders through fields of rare ferns and 500 year-old cedar forests on its way. Experience the adventure without leaving the comfort of your chair in this original account of a five-week backpacking trip along the Bruce Trail.
Learn:
What it's like to be a long-distance hiker
How to slow to the pace of nature and savor its beauty
The essentials carried by long-distance hikers
What the terrain is like on the Bruce Trail
The art of sharing an adventure as a couple
The wonders unique to the Bruce Trail and Niagara Escarpment
Ease of finding campsites and fuel along the Bruce Trail
Mail drop contents and logistics for a long hike
How to manage the risks such as snakes, bears, and hypothermia
Authors: Rich & Sue Freeman
224 pages, 49 pictures & 3 maps
ISBN # 0-9656974-3-6
Price $16.95
© 2001 Western New York Wares Inc.