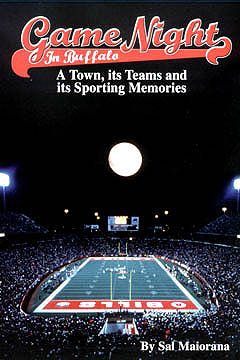 Books: by Title: Game Night In Buffalo:
A Town, its Teams and its Sporting Memories
Although the record wouldn't indicate it — four Super Bowl losses and two Stanley Cup defeats for starters — our region has enjoyed a storied sporting history.
Buffalo-born author Sal Maiorana will stir those emotions and passions as he chronicles the never-to-be-forgotten games and performances that fans have cheered and cursed.
Game Night in Buffalo brings back to life the events that have shaped local fandom and defined the parameters of barroom rants for generations to come. This journey includes:
Scott Norwood and Wide Right
Brett Hull and the No Goal controversy
St. Bonaventure's run to the 1970 Final Four
O.J. Simpson's quest to become the NFL's first 2,000-yard rusher
The Bills' historic comeback victory over Houston
Bob McAdoo's 50-point night in the 1975 NBA playoffs
The return of baseball to Buffalo in 1979
ISBN: 1-879201-44-5
$12.95
© 2003 Western New York Wares Inc.