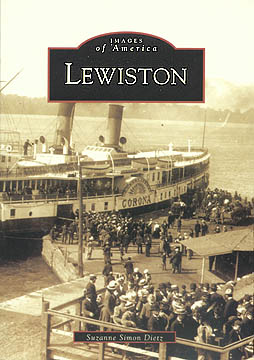 Books: by Title: Lewiston
Lewiston holds a wealth of history and legends. It reverberates with the pulse of a Niagara County town that has played a pivotal role throughout the years. It echoes the excitement of trade and traffic along the portage and the whispers from cellars of the Underground Railroad. It unfolds the proud character of a community that, today, is in the midst of a revival.
Each year, Lewiston welcomes more than 350,000 visitors who come to enjoy concerts and festivals, theater productions and parks, waterways and, of course, history.
Stunning images from the Lewiston Historical Society and Museum, Niagara Falls Public Libraries (New York and Ontario), Buffalo State College Library, Niagara Gazette, Tuscarora Nation Archive, and private collections illustrate Lewiston.
They are woven together in great detail by Suzanne Simon Dietz, who grew up in the village in the 1950's.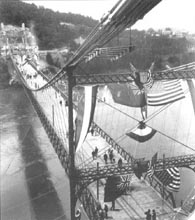 Pictured left: Opening Day. On July 26, 1899, the Niagara Falls Gazette reported the opening of the second Lewiston-Queenston Bridge. "The opening of the bridge completed the connecting link in a belt line railway system covering fifteen miles of the most beautiful and romantic territory at Niagara." (Courtesy Niagara Falls Bridge Commission.)
ISBN: 0-7385-4461-2
$21.99
© 2006 Western New York Wares Inc.