The A-to-Z Bus Tour of Buffalo (and Beyond)
Christin Ratzel was only seven years old when she co-authored this first-of-a-kind coloring book which showcases the Niagara Frontier. Working with co-author Brian Meyer and artist Anna Finkel, Christin has fashioned a 36-page coloring book that takes youngsters through their ABC's.
---
Buffalo: A Bull's Eye View
Bizarre tales and outlandish quotes offer a humorous look at life in Western New York. The 150-page offbeat almanac was written by Brian Meyer, Pamela Miles, and Tom Choinski, and includes illustrations by John Hardiman.
---
Buffalo Chips: The Book
The late Tom Stratton penned more than 100 rib-tickling cartoons. But that's not all. The 144-page book also includes humorous essays which showcase Stratton's unique brand of humor.
---
The Deacon's Son
If there ever was a modern day Tom Sawyer and Huck Finn, it would most certainly be Bill and Hairyless. Author Phoebe Hall introduces a cast of memorable characters which shed light on what it was like to be a Western New York teenager back in the 1950's. 152 pages.
---
The First Book of Attorney Abuse and Bench Bashing
Buffalo attorney Howard L. Meyer has penned dozens of irreverent essays, collected here in a biting and funny volume. Plus cartoons by David Mahoney.
---
Hometown Heroes: Western New Yorkers in Desert Storm
More than one hundred people were interviewed, and their experiences were woven together into one region's experiences during Desert Storm. Co-authors Brian Meyer and Tom Connolly tell a story, not about war, but about the people whose lives were changed by it.
---
Kids First: A First Aid Guide For Kids
Children aged 5 to 10 now have an educational way to learn the basics about first aid. It provides basic information on dealing with cuts and scrapes, burns, choking, something in the eye, nosebleeds, burning clothing, and breaks and sprains. The book was co-authored by Beth Kent-Astrella, R.N. and Angie Leonard, R.N., and illustrated by Carol Kent Williams.
---
Look Who's Adopted!
In this entertaining, brightly illustrated book, young readers will meet Wendel, the talkative turtle who introduces them to a world full of his adopted friends. By explaining all the many wonderful things his friends do at work and play, Wendel shows kids that little people who are adopted are just like everybody else. Written by Michael S. Taheri and James F. Orr, with illustrations by Jenny Wegrzyn.
---
Managing in Black and White
An information-packed guide for professional women of color, written by Dr. Ellen Grant Bishop. 48 pages.
---
Quotable Cuomo: The Mario Years
Hundreds of memorable quotes from one of America's most captivating public speakers have been compiled by journalists Brian Meyer and Mary Murray. Both a delightful read and an essential volume for researchers, this 120-page book features photographs by Joe Traver.
---
Roast Beef in April
Author Robert Higgins grew up in New York State's Southern Tier. His lively book takes readers on a leisurely stroll down memory lane.
---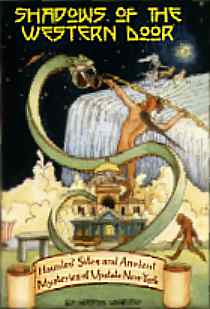 Shadows of the Western Door
Western New York mystified its first White settlers more than any other region in North America. By the middle of the nineteenth century, the area was famous as a source of psychic energy that flowered cults, communities, two major modern religions, and many supernatural displays. Guided by the insights of modern research, each of Mason Winfield's vivid, wry articles is another step on this supernatural safari across Western New York.

---
Sing a Song of Six-Packs (book and cassette combo)
Humorist Jerry Kent has penned a batch of musical parodies that make Buffalo politics spring to life. Most of the songs focus on the feisty former four-term mayor Jimmy Griffin, making it a collector's item for his many fans and foes.
---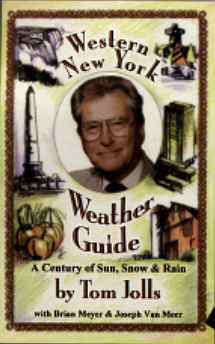 The Western New York Weather Guide
Veteran Buffalo weatherman Tom Jolls worked with award-winning journalist Brian Meyer and researcher Joe VanMeer to craft a unique almanac crammed with humorous, dramatic and educational slices-of-life, all of which focus on the four seasons. Read about the famous Blizzard of '77, or The Year There Was No Summer.

---
The World According to Griffin: The End of an Era
The controversial 16-year reign of Buffalo mayor Jimmy Griffin is captured in a book of quotations compiled by veteran journalist Brian Meyer. This 117-page book includes hundreds of long-forgotten barbs, put-downs and words of wisdom from one of the most quotable figures in local history.
---