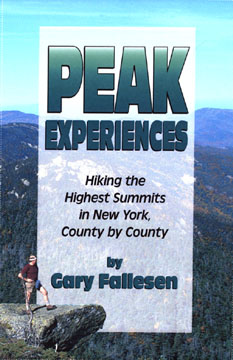 Books: by Title: Peak Experiences
Hiking the Highest Summits of New York, County by County
This often amusing guidebook by Gary Fallesen, packed with pictures and maps, will lead you on a quest. Bag the highest point of each county of New York State—there's 62 to be conquered. Some are barely molehills that can be driven by; others are significant mountain peaks that require a full-day climb. All promise new discoveries.
Approach: how to find the high point
Trail markings: how to follow the trail or locate the high point
The view from here: what you're likely to see from the high point
What's in a name: the origin of the peak's name
Accommodating visitors: where to stay in the area
Gear guide: what to bring to enjoy nearby activities
Trip planner: sources of additional information
288 pages, 72 Topographical Maps, 30 Profile Maps, 49 Pictures
ISBN 0-9656974-0-1
Price: $16.95
© 2001 Western New York Wares Inc.