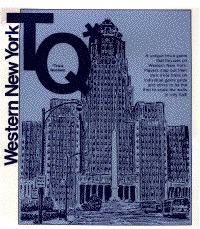 Western New York TQ (Trivia Quotient)
How much do you know about Buffalo and Western New York? Challenge your friends to a battle of wits, and play Western New York TQ.
TQ stands for Trivia Quotient. Think of it as an empirical measure of your knowledge of Buffalo-area culture and history. Each player has a game grid, with the object of the game being to scale Buffalo's City Hall. Players select questions from one of three difficulty levels: Novice, Journeyman, and Master. With each correct answer, they move higher up the floors of City Hall. But beware the elevator shafts!
So what's your Western New York TQ?...
Streets named after New England states can be found in what section of Buffalo?
What boxing great cancelled a 1982 bout in Buffalo due to a problem with his eyes?
The flags of what three nations fly daily over Old Fort Niagara?
True or False: "Tonight Show" host Jack Paar was a Buffalo radio morning man?
True or False: A fisherman caught a piranha in Buffalo Harbor in 1984.
ISBN: 0-9620314-0-2
$7.95