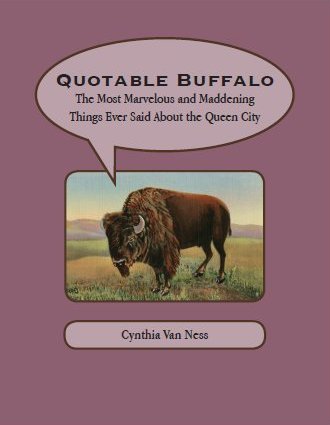 Books: by Title: Quotable Buffalo
People talk. When it comes to Buffalo, they've been observing, debating, admiring, and, yes, bashing us for over 200 years.
Quotable Buffalo presents some of the most insightful, complimentary, opinionated, unexpected, wrong-headed, and laugh-out-loud things ever said about the Queen City.
These quotes were found in books, magazines, newspapers, websites, and blogs, and showcase the voices of the living and the dead, the resident and the visitor, the famous and the anonymous.
Only Buffalo could have united Abraham Lincoln, Leon Czolgosz, Elbert Hubbard, Jackie Robinson, Garrison Keillor, Aretha Franklin, and Ani DiFranco in one small book!
Victorian Buffalo author Cynthia Van Ness combines her keen eye for history with her boundless love of the Queen City, to create this fun and enlightening book.
Are you in Quotable Buffalo? Check out the index to the most marvelous and maddening things ever said about our city.
ISBN: 978-1-879201-71-2
$11.95